Owner Deanne Rapanakis has turned her hunger into a passion! A lifelong resident of Los Angeles, CA, she has grown up in the heart of the Mexican culture and this is now the driving force behind the idea of Cholitas Tacos. "I wanted to bring really good tacos to Mount Vernon," she says. True to tradition, everything is made from scratch, from the locally made tortillas to the fresh salsas. The menu (below) is simple: tacos, quesadillas, burritos and tortas complemented by some really tasty apps such as the mouthwatering elote (corn on the cob). Cholitas also offers an assortment of Mexican sodas and real cane sugar Mexican Coca-Cola! Stop by this delicious find that was created humbly to feed the world some really good Mexican food!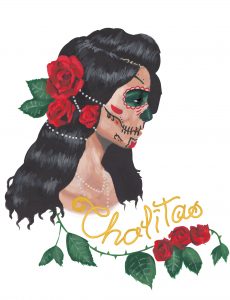 Appetizers
Chips n' salsa

–

Your choice of Pico de Gallo, Salsa Verde, Salsa de Ajo and Cholitas salsa. $4
Guacamole n' chips (M)

$5

Elote – Tender corn topped with mayo, chile piquin, queso fresco and cilantro. $3
Arroz (Rice)

$3.50

Rice N' beans or Spanish rice.
Cholitas Nachos- Crisp nachos topped with your choice of refried or black beans, Pico de Gallo, jalapenos, sour cream and hot cheese salsa. $6
Guacamole$3
Street Style Tacos
$12.50 (3 tacos per platter) or $3.50 each (single tacos do not come with beans or rice)
Your choice of flour or corn tortillas, black or refried beans, rice n' beans or Spanish rice.
Pescado

(fish)- Rockfish topped with cabbage salad, Pico de Gallo and chipotle salsa.
Pollo ala Mexicana

(chicken) –

Chicken marinated in Guajillo salsa, topped with cilantro and Queso fresco.
Carne Asada

(Beef)-

Tender pieces of beef topped with sautéed onions and cilantro
Carnitas

(Pork) –

Marinated pork topped with sautéed onions and cilantro.

Chorizo

(Mexican pork sausage)- Ground chorizo cooked to delicious perfection and topped with sautéed onion and cilantro.

Lengua

(beef tongue)- Tender beef tongue topped with sautéed onions and cilantro.
Camarones

(shrimp)-

Marinated shrimp topped with cabbage salad, Pico de Gallo and chipotle salsa.

Vegetables

(mixed peppers and onions)- Tender vegetables cooked to perfection and topped with pico de gallo.
Burritos
(Protein choice from tacos) $9
Stuffed with pico de gallo, hot cheese salsa, sour cream, your choice of rice, your choice of beans, your choice of protein from tacos and served with a side of Cholitas salsa.
Guacamole $3
Quesadilla
(Protein choices from tacos) $10
Flour tortilla stuffed with cheese, pico de gallo and your choice of protein from tacos
Big Ol' Tortas
Sandwiches in the most traditional Spanish style! All Tortas are made with refried beans, tomatoes, Oaxaca cheese, guacamole, jalapenos and your choice of sautéed or fresh onions. $11
Hamon con queso fondido

(ham and melted Oaxaca cheese)

Chorizo

(Mexican ground pork sausage)

De Pierna

(pulled pork)

Carne Enchilada

(guajillo chile marinated chicken breast)

Rajas

(grilled peppers and onions)
*Hours and prices are subject to change without notice